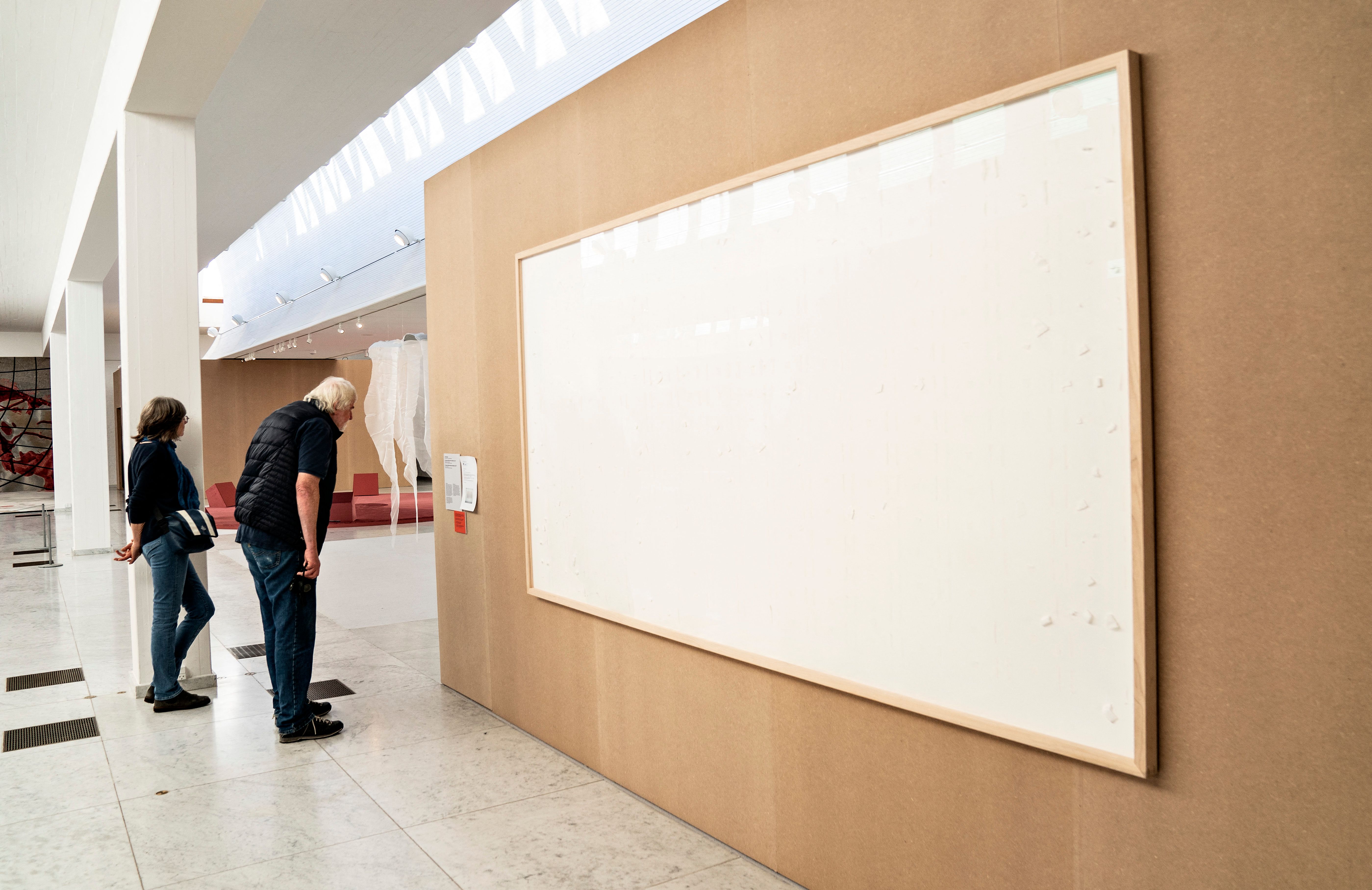 Artist steals $ 84,000 from museum of modern art and calls it concept art
People stand in front of an empty frame that hangs at the Kunsten Museum in Aalborg, Denmark, September 28, 2021. – The Danish museum loaned an artist $ 84,000 in cash to recreate his old works of art using banknotes, but the boxes he sent only contained blank canvases and a new title: "Take the Money and Run". This is exactly what Danish artist Jens Haaning did by pocketing the money the Kunsten Museum in the western town of Aalborg loaned him to reproduce two works that used the Danish krone and euros to represent the annual salary. in Denmark and Austria. Image: HENNING BAGGER / Ritzau Scanpix / AFP via Getty Images
Danish artist Jens Haaning snatched $ 84,000,000 from a museum of modern art in Denmark as part of a self-proclaimed conceptual artwork titled "Take the Money and Run".
The Kunsten Museum of Modern Art in northern Denmark initially asked Haaning to recreate two of his earlier works as part of his "Work It Out" exhibition. The works– which were originally shown in 2007 – consisted of two canvases encased in glass that contained this average income from Denmark and Austria like real banknotes.
Lasse Andersson, director of the Kunsten Museum, told Danish national broadcaster DR that the museum had loaned DKK 534,000 to Haaning to recreate the works, but that he had contracted out that the money was to be returned at the end of the exhibition in January 2022. However, when museum employees opened Haaning's two packages, they were surprised to find two empty glass frames – the $ 84,000,000 was nowhere to be found.
While Andersson said he expected the money to be paid back by the end of the show, Haaning seemed to have different ideas. Talk to radio program P1 Morgen, Haaning said: "No, [the money] must not be returned. The job is actually that I took their money.
Haaning, who did not immediately respond to an email from Motherboard, said "Take the Money and Run" is a protest against low wages and working conditions in the art world. According to Haaning, the museum offered to pay him 25,000 Danish crowns (about $ 3,925) for the two recreated works – the same amount, he claims, that it would cost to recreate the works in the first place. In other words, it would have just hit the breakeven point.
On P1, Haaning also called on other workers to do the same as him.
"I encourage other workers who have conditions as horrible as mine to do the same," he said. "If you do a shitty job and you don't get paid – and you're actually asked to pay to work – then take what you can and beat it."
Andersson and the Kunsten Museum appear to take a cautious but firm line when discussing the embarrassing situation, and have yet to publicly commit to going to the police if Haaning does not return the money.
"I would give it to Jens [Haaning] that a full-fledged work of art has been created that comments on the exhibition we're putting on, "Andersson told DR. "But that's not part of our deal."
The Kunsten Museum of Modern Art did not immediately respond to a phone call from Motherboard.