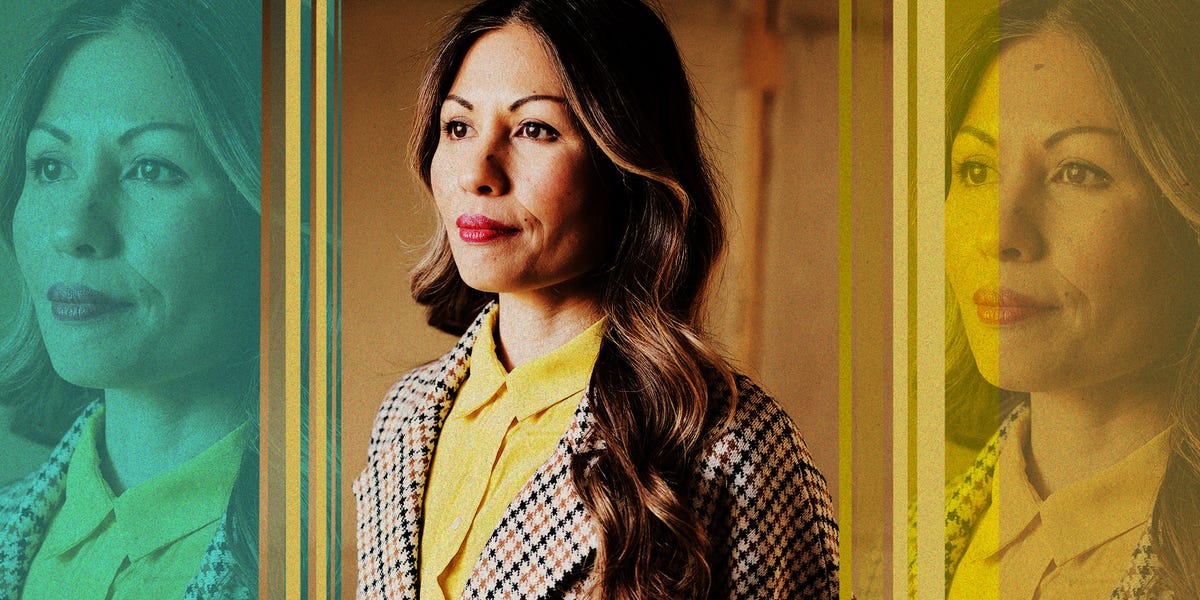 How Cheryl Sim and the PHI Foundation are making modern art more accessible
The PHI Foundation for Contemporary Art is located on a Montreal street that feels more like a movie studio backlot than the old-world architecture and vibe the city is typically praised for. Think: another business district dotted with casual restaurants and young adults strolling with cafes. However, on the corner, set behind an understated art-deco facade, is a bright pink and orange polka-dot sign advertising a Yayoi Kusama performance.
It may seem strange to bring the Instagram-friendly world-renowned Japanese artist Infinity Rooms for the first time in this part of town – where the exhibition, "Dancing Lights That Flew Up to the Universe", will continue until January 15, 2023 – rather than a sprawling museum. But that's exactly the point.
As a passion project of founder Phoebe Greenberg, the PHI Foundation opened its doors 15 years ago with the aim of humanizing modern art by lifting it out of the ivory tower of intellectualism. Since then, it has transformed into a women-led organization with the goal of empowering their guests. Everything – from the artists the foundation works with (who in the past have included Björk, Yoko Ono and Jenny Holzer) to their down-to-earth location in a former music school, to the fact that it's free to visit – is an intentional way to refine what might otherwise be very lofty concepts.
"Big museums, even the Pompidou, had a certain monumentality that can be very intimidating," says Cheryl Sim, chief executive and curator of PHI. "And contemporary art is intimidating enough because it's often closed."
Fifteen years later, the PHI Foundation is still keeping its promises. Sim sat down with Shondaland to discuss the power of relationships, why work-life balance makes for a better creative experience, and how the foundation intends to pursue its mission over the next 15 years.
---
LAURA STUDARUS: Congratulations on the foundation's 15th anniversary. How did PHI take root?
CHERYL SIM: Certain parts of society have always been interested in keeping art rather exclusive and somewhat elitist. So when Phoebe saw the Cartier Foundation, she really appreciated the approach [to egalitarian art experiences]. In the mid-2000s, [Greenberg] had a small child and her father had passed away, which brought her back to Canada. She lived in Old Montreal, and she found a small building that she thought had the right kind of dimensions on a human scale and thought, "Oh, maybe this is my foundation.
LS: What attracted you to the mission of the foundation?
CS: Before the foundation opened its doors, I had been hired about six months before. I was actually working in an artist center. I had been there for 10 years, and I was actually ready for a change. I organized exhibitions, the residency program, publications – it was a long list of things. That's what happens when you work in artist-run centres; you end up taking a lot. I was starting a master's degree in media studies. And the opportunity arose to organize essentially exhibitions at the foundation. I was also interested in public programs. And then the curator ended up moving on at a time when I had finished my masters and expressed my interest in curating. So I became assistant curator and then associate curator. When my predecessor left, I took the post of curator. And then in 2016, when I was in the middle of a PhD, we decided to add the CEO to my role.
I truly believe in Phoebe's vision for this organization. It is this mandate to break down what contemporary art is and to break down entrenched perceptions of what contemporary art is. Really just believing in this matter of freedom, not the way we talk about art in the media, but really giving people a space to feel empowered to read art. They don't have to know all sorts of things before they get in, and they can trust each other and enjoy the process. We've developed this over time, and it's instilled in all of us a real sense of purpose when the going gets tough and you run into obstacles, as one does in any field of work.
LS: Since all the leaders of the foundation are women, has that changed the tone of the work?
CS: Phoebe, without making any real manifesto, naturally gravitates towards other women and works with women. I've worked in all kinds of organizations, big and small, and I find that [working with Phoebe] was one of the most interesting jobs in terms of relaxed openness in communication. Working with other women comes with a certain vulnerability that you are not afraid to express. He's not threatening anyone. You are not afraid to express your need for work-life balance, for example, without threatening anyone. We can talk about these things and really mean it. We talk a lot about a culture of caring in the workplace, but it sounds real.
LS: What kind of discussions did you have before hosting Yayoi Kusama's very first show in Quebec?
CS: It was kind of a perfect storm. Our 15th anniversary was approaching. We wanted to do something that would be a gift for people and an extension of the existence of the foundation. Phoebe had often mentioned Kusama. This is how we program; we kind of sit and think, "What if we could do this thing?" [A previous artist we worked with] and Kusama are represented by the same gallery, so there was a natural opportunity to strike up a conversation there. And it took a little while, but we finally got a yes. We were pleasantly surprised. Why would she say yes when she has all these huge, sprawling retrospective offers coming from all over the world? We have a bit of the audacity of a dreamer in us. It's like, why not give it a try?
LS: It's a great life lesson — always ask.
CS: Yeah, what have you got to lose? You must make an honest request. Maybe a little serious but definitely genuine, and see what happens. The worst that can happen is not.
LS: Looking back on your 15 years together, were there any other lessons that pleasantly surprised you?
CS: I think the one thing we've continually learned is the importance of building relationships with all the artists you work with. Just take the time to build trust. We are a rather small organization in the grand scheme of things; we only do two or three major exhibitions a year. We see the importance of taking the time and being slow food. We did a lot of exhibitions where we were kept at a distance from the artist. For some reason they are extremely busy. They want to do the project. Maybe it's a group show, so you're mostly dealing with a studio manager. He still feels very insecure. But when it works, like when we worked with Yoko Ono, or Joan Jonas, or Phil Collins, you make these very meaningful connections with people that will last a lifetime, and that's hugely rewarding. And then they can dream with you. You work hard to achieve their dreams. It's a real mutual collaboration, and when the process can be as good as the result, that's always what we want to strive for. Why would we do anything differently? We really appreciate these opportunities to work so closely with artists.
LS: I think maintaining the joy in the process is something that's easy to lose sight of in any creative project.
CS: Sometimes you end up really taxing your team, taxing your resources. You have a show that you're happy with, but it never goes well because the process was so arduous and it really weighed on people. We learned the hard way; we spent the first years of our existence in this mode. It took being able to recognize that it's like, "Hey, why can't we make the process as good as the outcome, and what would that look like, when we made that change? " It really helped honor Phoebe's vision for this organization so it could be sustainable. I think we see a lot of cultural industries and beyond where people get chewed up and spit out. As soon as you can no longer handle this workload, then "goodbye". We've been given the gift of some kind of enduring scope of our work to be able to say, we're not going to do this. We don't have to.
LS: Fifteen years is a tremendous accomplishment. What is the next step for you and the foundation?
CS: Try to really look at what accessibility means. And part of that was adding other languages ​​to our approach, like American Sign Language and Quebec Sign Language. We're really looking at all of our blind spots, how we can be of greater service to a wider audience, especially the audiences that are most often overlooked. So that's a big goal. The other thing that's exciting is that the foundation will have a new home in 2026. It's a project called PHI Contemporary. There was an international architectural competition which was launched and concluded in July. And there is a site on the other side of Old Montreal that consists of three heritage buildings and a vacant lot, and so this new project will become the future of the foundation. PHI Contemporary will keep the same philosophy, the same curatorial approach to things, the same set of values. It will have just about the same square footage for the galleries. We want to stay sustainable, so we don't want to double or triple that at all. But what we will have that we don't have now are spaces for the public. So better facilities for our educational program, things like an auditorium where we can have performances and film screenings, and places where people can live and relax and maybe experience contemporary art. Like maybe you come for coffee and meet a friend and then you find a free exhibit. We try to increase the entry points into experiences with contemporary art with this new iteration of ourselves.
---
Laura Studarus is a Los Angeles-based travel writer who has contributed to fast business, BBC trip, and Thrillist. Follow her on Twitter at @Laura_Studarus.
Get Shondaland straight to your inbox: SUBSCRIBE TODAY