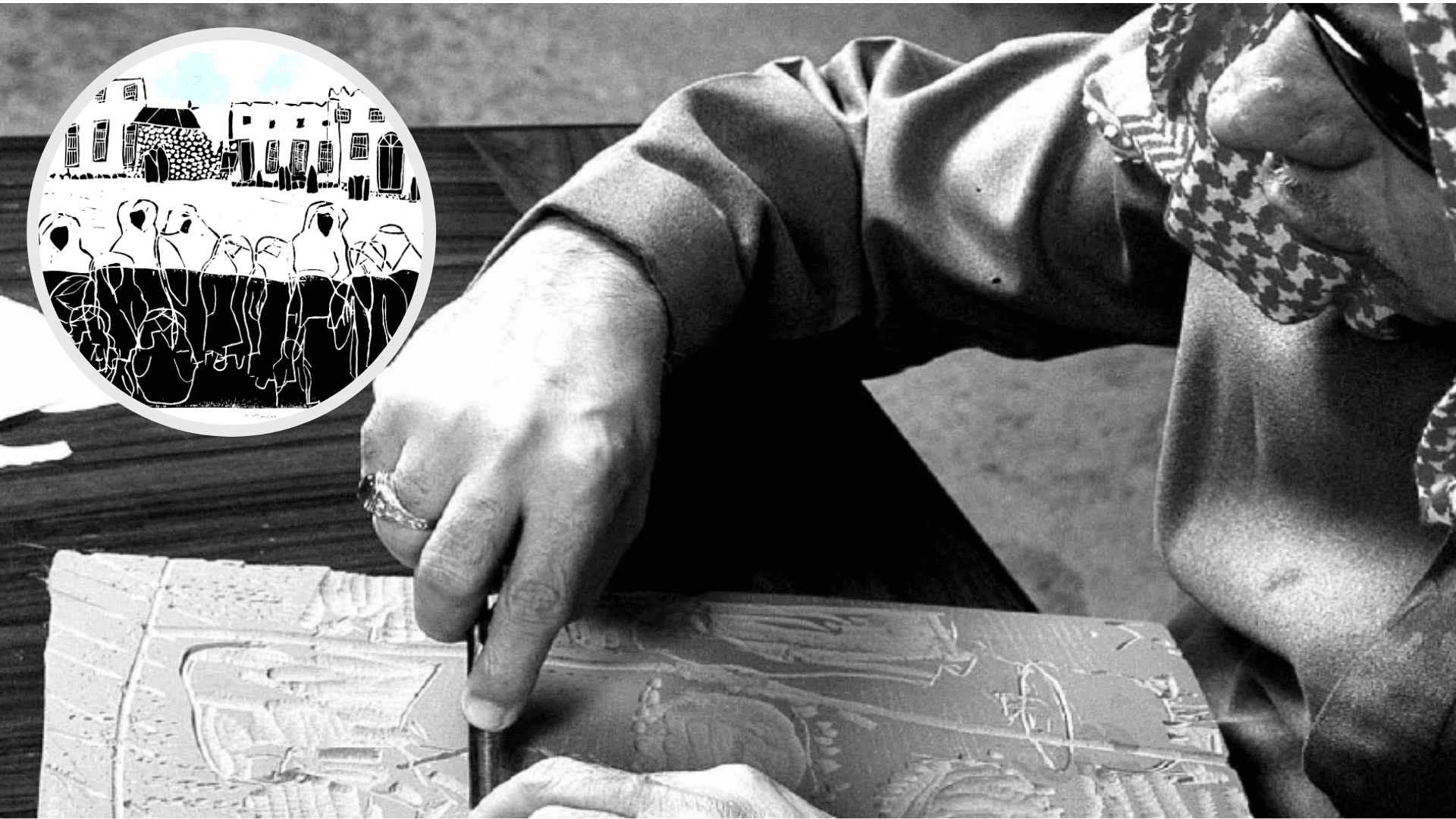 Nasser Al Yousif – The blind Bahraini artist who pioneered modern art in the Arab world
Recognized as one of the leading artists of his time, Nasser Al Yousif (d. 2006) was known for his impressive artistic expressions of Bahraini life, culture, architecture and landscapes. With over forty years of experience in the field, Al Yousif eventually lost his sight, but that didn't stop him from pursuing his passion. In his linoleum prints, Al Yousif was always able to capture the life and landscapes of Bahrain in unique ways.
Born in 1940, Al Yousif, a native of Muharraq, was known as a passionate artist who not only pioneered modern art but also paved the way for the country's art movement. At the time, Bahrain had very few artistic resources, which for Al Yousif was a huge advantage. Attempting to fill this void, he and his contemporaries began to introduce a more infused type of art; traditional and modern.
Al Yousif was interested in art from an early age. In his early twenties, he strolled through Bahrain's many traditional markets, gardens and ports to capture what he believed to be the quintessential Muharraq. It seems that for Al Yousif, there was no better way to represent the splendor of his country than to draw it. With no technology at his disposal, Al Yousif relied heavily on his talent and tools to bring Bahrain to life.
locate art
Al Yousif's art reminded many who followed him of the importance of looking at and contemplate. After all, if an artist spends much of his time on a canvas expressing his perception of a landscape, it is so that viewers can appreciate the perception. Bahrain being an often overlooked country in the Persian Gulf setting, it seems that Al Yousif tried to express a confident yet ageless view of Bahrain.
As the Persian Gulf region progresses in many ways, some believe that efforts like Al Yousif's would provide a new impetus for genuine growth. With globalization becoming more widespread, the localization of art is becoming increasingly rare. This, according to Arie Amaya-Akkermansis 'one of the explanations of the cultural crisis that plagues the identity of local artistic production, perhaps not in terms of galleries, collectors and exhibitions but in the meaning of local space (what is which is yours?) and appropriate it.
Triumph of Insight – Never Give Up
In the one-hour documentary film titled, Triumph of Insight, Al Yousif was interviewed about his life and works. The documentary introduces viewers that Al Yousif would not give up easily; although he lost his sight, he never lost sight of his passion. Even after losing his sight in 1994, the devoted entertainer introduces viewers that insight is far more important to artists than sight.
As part of the interview, he mentioned"I have a huge background in the fine arts, spanning over 40 years. And when I lost my sight, the feasibility I had for art remained. I can't give up!"
Main image credit: Albareh Art Gallery & Barjeel Art Foundation
Juber Ahmed



Juber Ahmed is our digital editor and travel enthusiast with a keen interest in Islamic history and heritage. He travels with his wife to various places around the world and writes about his experiences.
Juber's favorite quote…
"The world is a book and those who do not travel read only one page" [Saint Augustine]